Rat Worx ZRX 9mm Integral Suppressor for IWI Tavor - OD Green Keymod Forend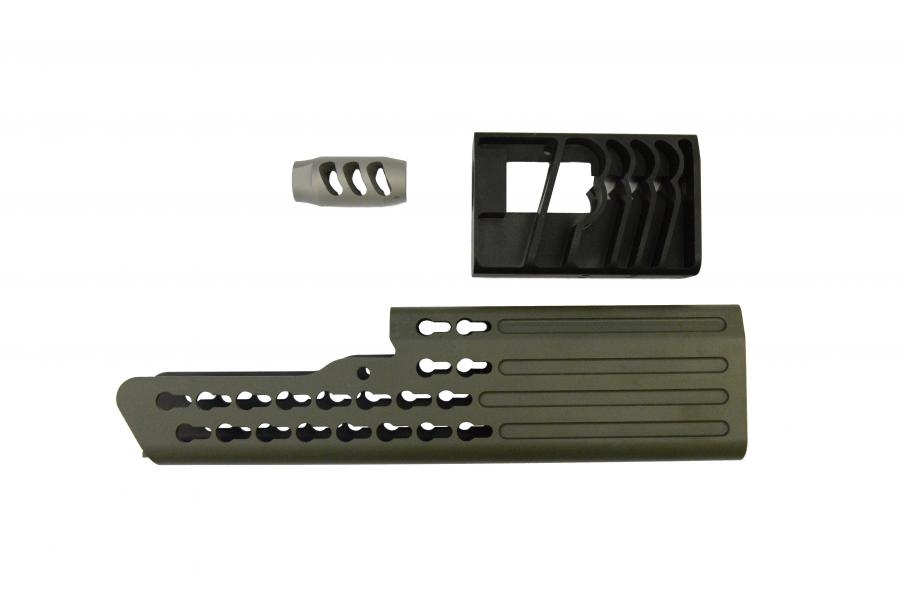 Currently Unavailable
MSRP

$30000
Rat Worx ZRX 9mm Integral Suppressor for IWI Tavor - OD Green Keymod Forend
Redefining the suppressor as you know it.
Here at RAT WORX we strive to develop innovative new ideas, pushing the envelope on firearms technology as you know it. By teaming up with like-minded individuals from Manticore Arms we've been able to create a suppressor the likes of which have never been seen!
Using the cutting-edge ARClight Forearm design from Manticore Arms, we were able to develop a suppressor that unbelievably reduces noise from the 9mm Tavor. The overall system only adds 2-3/4 inches of length to your rifle. Compare that to your average 9mm suppressor, with an overall length of 7".
With the use of the ARClight rail system design, you can use the most popular rail accessories. The ARClight system doesn't lock you in to using proprietary parts. Manticore Arms went to great lengths to ensure Magpul MOE polymer rails segments and most of the Impact Weapon Components Mount-n-Slot accessories would fit the ARClight system, allowing you to install almost any grip, light, laser or pressure switch.
The ZRX suppressor gives you unparalleled noise and recoil reduction in a compact package that only adds about 20 ounces to your rifle! When all is said and done, the center of balance for your rifle still sits nearly directly over the grip and trigger. This puts it exactly where it needs to be for maximum ease-of-use and efficiency.
What's In The Box?
(1) - ZRX Suppressor


(1) - Specially Designed 1/2x36 9mm Muzzle Brake


(1) - Allen Wrench
What Do We Need From You?
When you're finalizing your order, please BE SURE to give us your FFL information. This will allow us to expedite the process of getting your dealer's FFL and SOT and will help the process of starting the Form 3 paperwork move much faster.
What Can You Expect?
When ordering your ZRX suppressor, you can expect a few phases throughout the order process. This process can seem confusing at first, but it's fairly straightforward.


Initial Purchase: Please have a FFL/SOT Dealer picked out that will do a suppressor transfer for you before you order. If you do not have a FFL/SOT Dealer, email or call us and we will help locate a dealer for you. Make sure the dealer knows you are ordering a suppressor from Rat Worx! Next step, place your order. We will contact your FFL/SOT dealer and get the necessary documents from them. Once FFL/SOT documents and payment have been received, ATF approval is required to move the suppressor to your dealer. This is done on a Form 3.




Form 3 Transfer: There will be a brief waiting period for ATF approval after we file the Form 3 with the ATF. Once approved, we ship your ZRX to your local dealer.




Shipping: Once the ATF has approved the Form 3 transfer, we will ship your ZRX to your dealer. You will receive a tracking number at the email address you've provided once your ZRX has been shipped.




Form 4 Transfer: Once your ZRX arrives at your local dealer, they will help you through the Form 4 process. This is the point where you will need a photo, and fingerprint cards, or "Trust" information. Your FFL/SOT dealer will be helping you with this, and will file the Form 4 with the ATF.




Enjoy! Once the Form 4 transfer has been finalized, you will be able to take your ZRX suppressor home and have fun!
Item Info
| | |
| --- | --- |
| Item | Available In Store |
| UPC | RW-SUP-ZX9KG |
| Brand | Rat Worx |
| Model | RW-SUP-ZX9KG |
| Caliber | 9mm |
Tech Specs
| | |
| --- | --- |
| Overall Length | 7" |
| Weight | OD Green Keymod |